"We cannot do all the good that the world needs, but the world needs all the good that we can do. "
Plastic has been found in The world's deepest ocean trenches, according to a new study published in The Feb. 27, 2019 issue of The Royal Society, largely suggesting that there are no marine ecosystems on earth that have not been polluted by it.
"The world's deepest ocean trenches are becoming "the ultimate sink" for plastic waste, according to a study that reveals contamination of animals even in these dark, remote regions of the planet.
Scientists say it is likely no marine ecosystems are left that are not affected by plastic pollution. In fact, plastic straws are one of the top polluters on our beaches.
As more and more countries are advocating that people use recyclable products instead of plastic products, especially to use reusable metal straws to replace plastic straws. that is why the searches for metal straws are increased rapidly in these two years.
As the need for metal straws rising, Many Metal Straws Brand Supplier, Distributor, Retailer, and End Consumer are looking for a reliable metal straws supplier with high quality.
As a Professional Metal Straws Bulk Factory in China, we supply various stainless steel metal straws with engraved personalized Branding logo and straws accessories with a case in the wholesaler cheaper price with good quality to the worldwide market. All customers are satisfied with our quality. We are aimed to provide the best lasting stainless steel metal straws for you.
Below are 10 Important Points of Reusable Metal Straws we can provide to you:
1. High quality with food-grade stainless steel material
All our stainless steel straws have the below features:
1) Reusable
2) Durable and Long-Lasting
3) 304 Stainless Steel (18/8 Stainless Steel) or  316 Stainless Steel  (18/10 Stainless Steel)
4) BPA Free
5) FDA Approved
6) Dishwasher Safe
7) Food-Grade
8) Safe to Use
After the first generation which is too sharp, we create the second and third generation which is smooth to protect our lips and tongue, it will increase our happiness when we drink. and they are more and more popular in the worldwide market.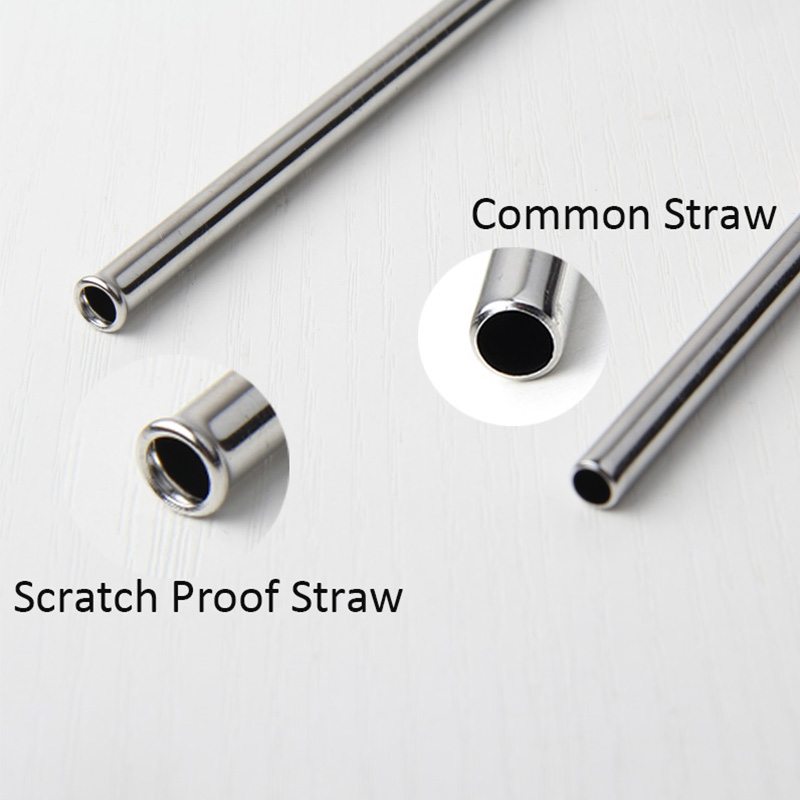 3. Wide Variety of Metal straws size and colors
Different sizes and colors to suitable for all your drinks and needs. Customized sizes and colors are available.
Length of  Straws: 4.7inch, 5.9inch, 8.5inch, 9inch, 9.5inch, 10.5inch
Diameter: 6mm for Juice, 8mm, 9mm for smoothies drinks, 12mm for boba drinks
Color: Original Stainless Steel Silver, Rainbow, Black, Rose Gold, Gold, Blue
Style: Bent & Straight to suitable for your different jar bar, Stainless steel cups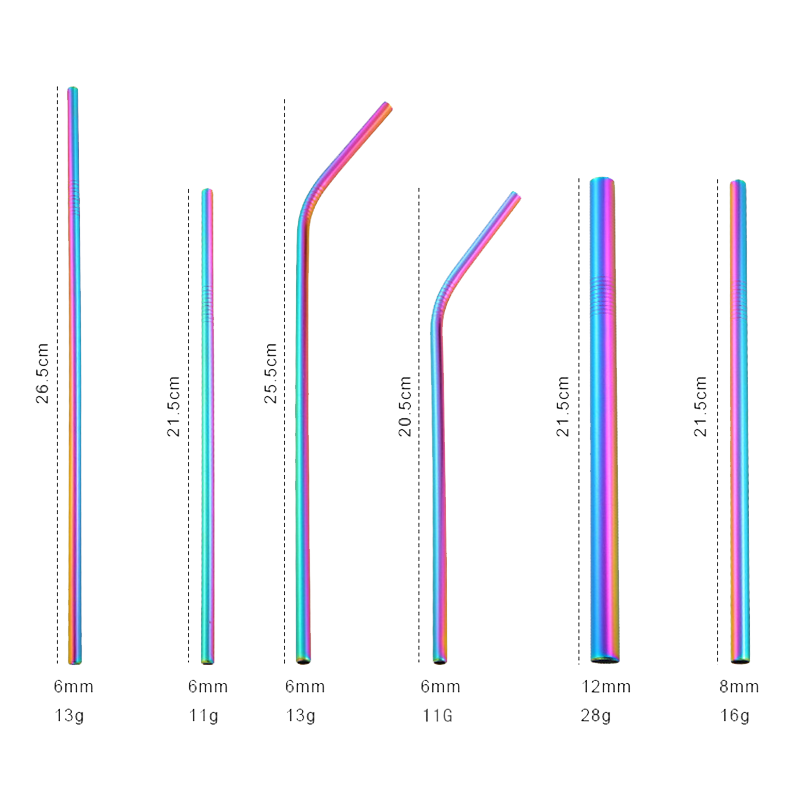 We created the patterned metal straws with a textured design for you. Contact us for the Free sample for checking.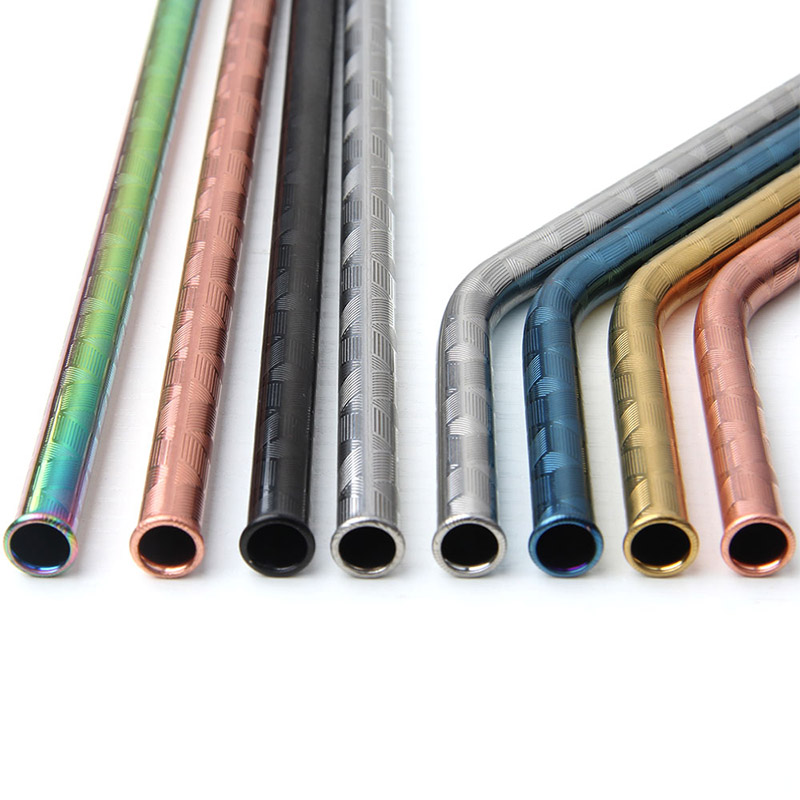 5. Different size Straws Cleaner Brush
The Metal Straws are easy to clean with the nylon cleaner brush, and we have the stainless steel metal with white bristols & Black bristols.
1) 160mm length for the straws shorter than 6inch
2) 200mm length for 8.5inch straws
3) 240mm length for 9.5inch straws
4) 260mm length for 10.5inch straws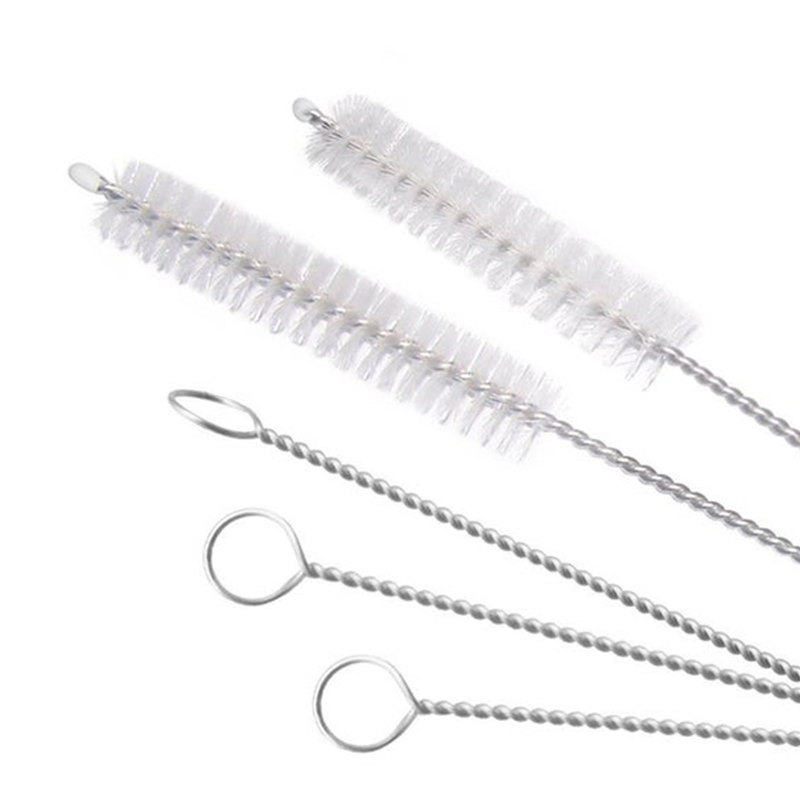 6. Silicone Accessories for Metal Straws to fit your Hot and Cold Drinks
1) Silicone tip cover (more than 10 colors)
Silicone tip cover is effective in preventing hot or cold drinks that may irritate your teeth.
2) Silicone rubber stopper (more than 10 colors)
Metal Straw will work better with your stainless Steel Cup together with the silicone rubber stopper. See the pictures of how to use it better.
3) Silicone Dust Proof Cover
As sometimes you may expose your metal straws to air for a long time, it can keep the dust out of the Straw.
All Metal Straws can be a free combination as gift sets for your wedding door gift & activity gift, so we can offer you different stainless steel metal straw sets with different cases.
if you want to custom your logo design or brand artwork, definitely okay. It's a great way to promote your brand.
1) White and black drawstring bag
2) Colored Pouch bag
2) Transparent Blister with paper card
3) Wheat Stem Box
4) Paper Sleeves Bag with custom logo
5) Paper Box with Hole for Hanger
6) Custom Logo with Paper Card in PP bag
7) Fabric cloth sack Bag with string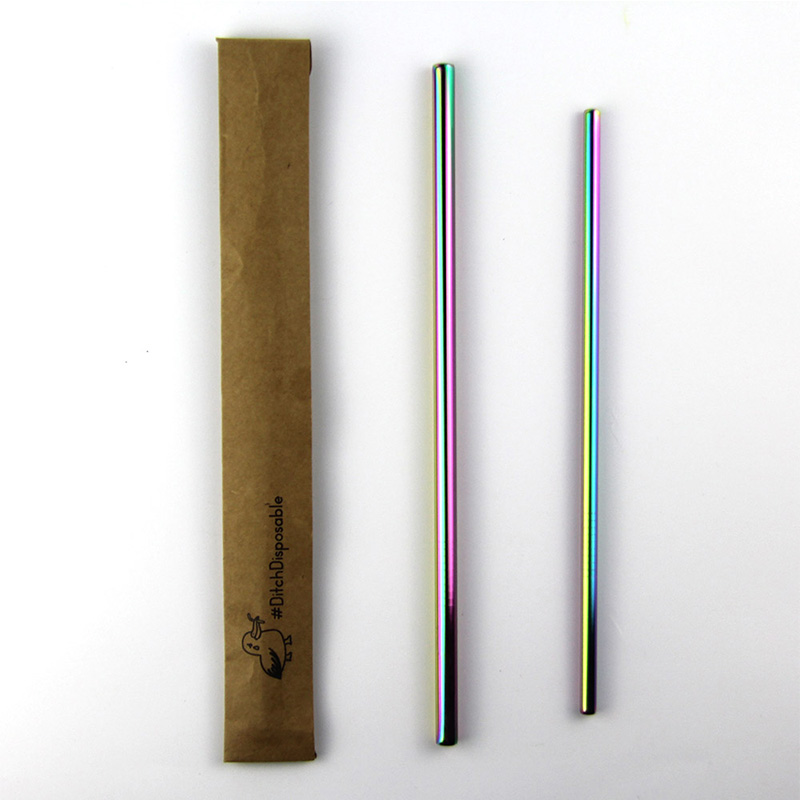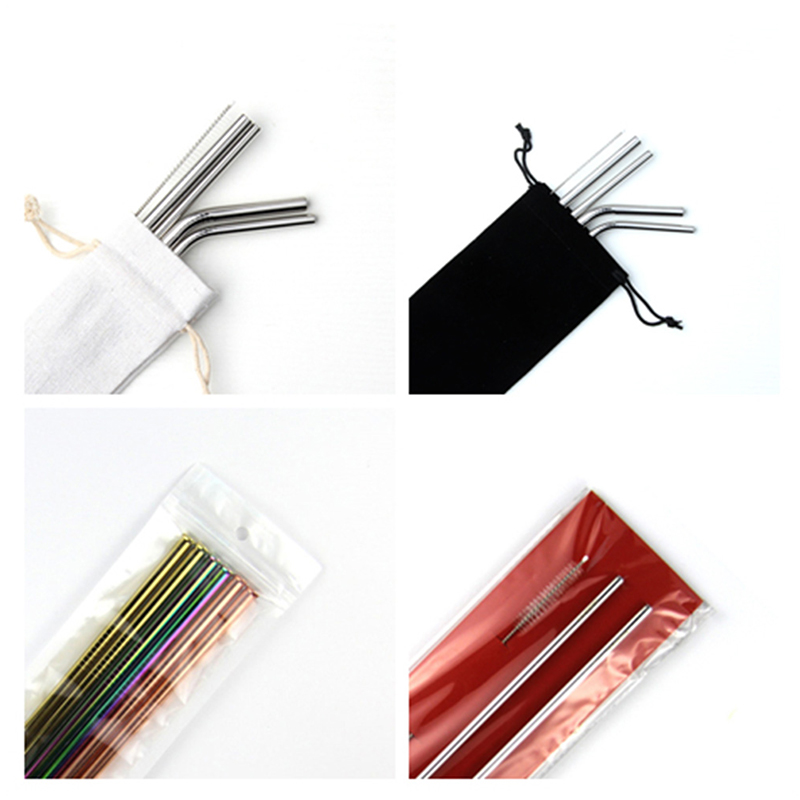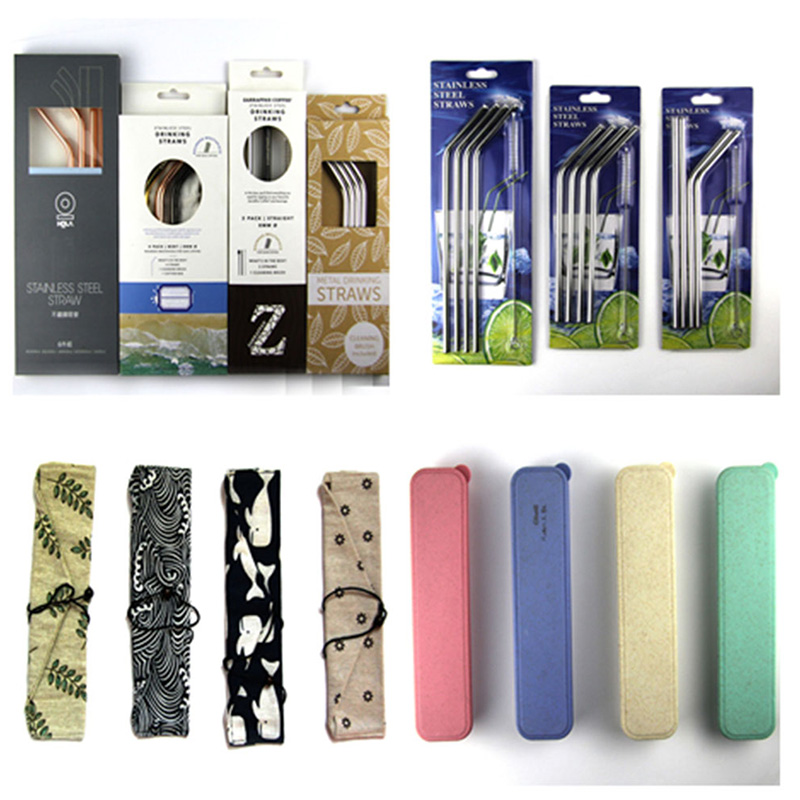 All our metal straws are laser engravable – your logo is permantely laser-etched into the metal straw.
Our straws include a subtle custom laser engrave imprint,  Our personalized stainless steel straws are high quality, feature permanent laser etching of your logo or text can be used with 30 oz tumbler stainless steel cups.
On custom straw sets, you can laser engrave reusable stainless steel straws with your company name or website.
1) White Color engraved logo on metal straws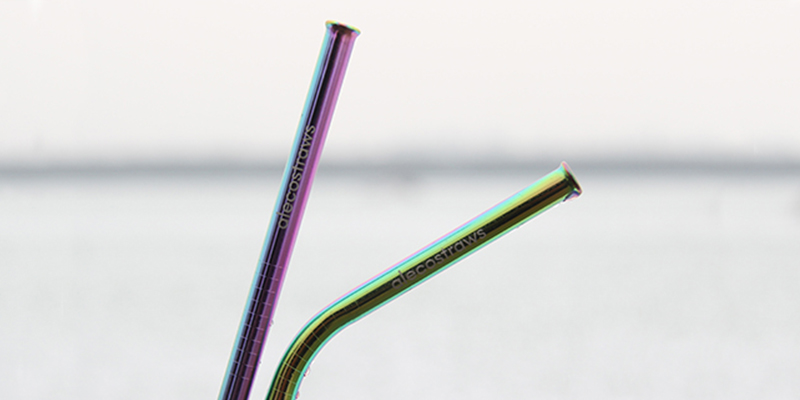 2) Black Color engraved logo on metal straws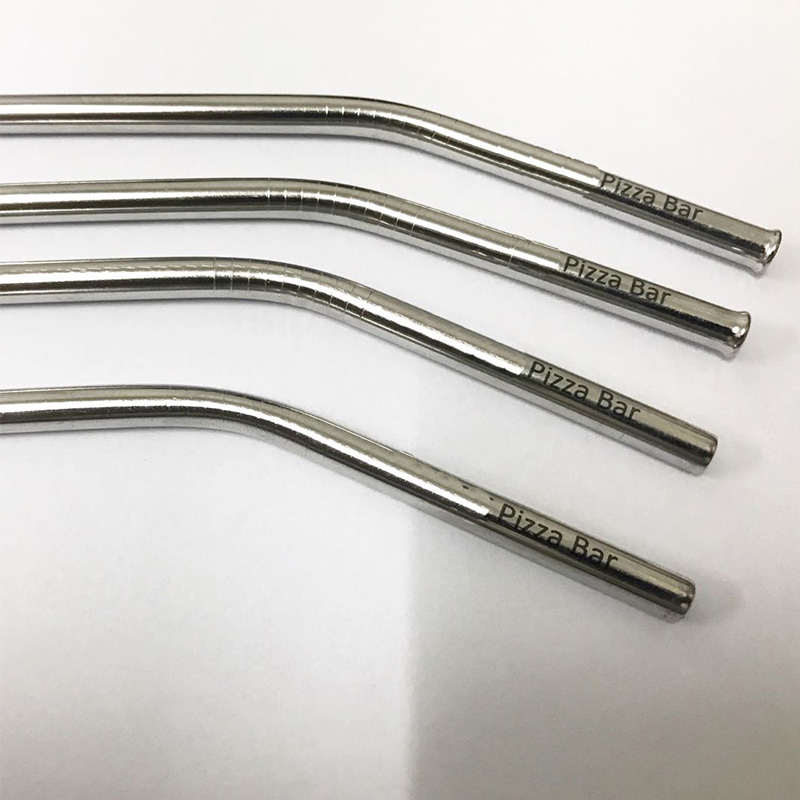 Once you ask that you want to check the straw quality first, it is definitely okay. We can provide any straws items with any accessories samples Free for you according to your requirements. If you want the straws sample with an engraved logo, please send us your logo designs in AI format, then we can make the straws with one custom logo for your check prior to your order.
10. Quick response for your any inquiry
1) WhatsApp or Call us by +86 188 2280 1672, you will get answers in 9 hours
2) Email us at info@alecostraws.com, will get a reply in 24 hours
Contact us NOW for any inquires, and you will get our replies soon.